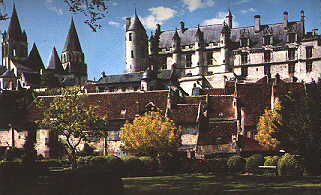 The Town of Loches from the Park
Almost April's Fool
Monday morning, April 1st, almost proves to be a major disaster. We have reservations on the Train Gran Vitesse at 10:15 AM and accordingly rise early, check out of the Hotel Riviera and lug our suitcases up the hill to the Metro. To start the day my suitcase gets stuck in the metro gate and it will not let go. We end up having to get a metro ticket for the suitcase and send it thru as a passenger. Embarrassing, but no disaster.


On our last Metro ride an accordion player gets in right next to us and commences playing. Carol searches thru her purse and he obviously thinks he is about to get paid. This guy is not a happy camper when she produces a granola bar for me to chew on. A thirty minute trip thru the system puts us at the Montparnasse SNCF station and we find a bench on the upper level where the trains pull in. So, we are sitting there eating a croissant breakfast and I check the time and it is only 5 minutes until nine. What will we do for the next hour? Looking around Carol comments that the clock at the terminal is an hour off. While we are criticizing the local timekeeper we realize there are several clocks in the terminal and they are all off by one hour. Doh!! Daylight savings time!


Luckily we are over an hour early by our watches and we find the right train and board just minutes before it takes off for Tours. That's what happens when you are language stupid and have been news deprived for several days. We are just dumb lucky to have arrived so early and guessed right about the time change.


We are still not sure about this time business and, of course, can not converse with anyone, so we are a little shaky about being on the right TGV, but everything about the train and our ticket seems to match, so we settle in. Absolute luxury. Spacious and comfortable seating, no smoking, quiet and relaxing. This train takes us to Tours in about 50 minutes and I figure it averaged about 200 mph. If you ever have been on Amtrak you would truly appreciate this train.


However, this train does not go directly into Tours. It stops at a station in Ste. Michele des Plaines and you have to transfer to a regular SNCF train for a 3 minute ride into the station at Tours. This is a major aggravation as the transfer train is jammed with people to the point of standing room only with no space for luggage and additionally the train is not marked as to destination and it is just a real hassle to travel a few hundred yards into Tours. These two french women at the rear of the car have taken four seats. Two for themselves and two for their carry bags. I am standing there with 200 lbs of luggage and they just kept talking and force me to ask for them to move a bag and let me sit. Whoever engineered this transfer will not be in the Engineers Hall of Fame.


The first impression of Tours was the dogs. The Train station appears to double as the city dog pound, with les chiens trotting around at their leisure, begging for scraps, playing with each other or fighting for territory. They come and go as they please thru the automatic doors and seem to be thoroughly in charge of the entire situation.


Back in the States we had been cautioned to set our pick up time for our rental car so that we knew we would not be late, because they would give the car to someone else if we did not arrive at our pre-stated time. This is not good information. We find our way to the rental office across the street around 11:30 and there are told that if you put down 3:00 as your pick up time, it means you can NOT pick your car up before 3:00! Furthermore, it is now 12:00 and they are closing for lunch. They do allow us to leave our luggage in their office and give us the old 'au revoir' until 2 PM. There goes the extra travel time we saved by taking the TGV.


We had no plans to spend anytime in Tours, but there we are with two to three hours to kill. Tours is a large town with plenty of hotels but we always prefer rural locations with no noise or traffic. We find a nice self service cafeteria a few blocks up from the rental office and have a pretty good meal and then walk down past a little park to the Cathedral of St. Gatien. This is a really old church made of the soft tufaux stone of this area and in pretty poor condition. It is half covered in scaffolding, of course, and undergoing major repairs. The little park is really a nice place, although tiny, and boasts the smartest dog in France. This mutt goes to the gate, uses his nose to push down the handle releasing a lever to open the gate, and strolls in to get a handout from a picknicker. He then saunters back to the gate and pushes the handle up to return to the street. We walk the streets for a while looking for the Place de Plumereau but never find it, catch our first view of the Loire River, and circle back to get our car.


We are supposed to get a five speed two door Ford Escort. What we end up with is a hatchback Peugeot named for some reason 'Green'. We never find out why a car model is called a 'Green' and we never see a 'Red' or a 'Blue' during the entire trip. Maybe this is an attempt to capitalize on the environmentally correct trend. Anyway, Little Green proves to be an adequate and trustworthy friend throughout the whole trip, and economical as well.


We find it fairly difficult to get on the correct roadway and get out of Tours, but once we get adjusted to the geography we head straight for our B&B, Le Logis du Sacriste, in Cormery, just a few miles to the south. It turns out to be a really neat place with a little courtyard in front behind large iron gates and with a nice little jardin surrounded by high walls in the rear. A side of the structure was a part of the a 10th century Abbey and the tower and some gates of the Abbey still remain. The host is British/Scottish, very nice and very helpful during our stay of three nights here. Our room is on the third floor up a narrow winding staircase and is small but nicely decorated and has its own private bathroom with shower. No complaints about this place save for the sandpaper quality bath towels. The town of Cormery, on the River Indre, is tiny, but on a main highway and quite convenient to most everything in the eastern Loire region.


It is early afternoon and we have plenty of daylight left, so we head for Chenonoceau, the fairy tale chateau that spans the River Cher. This is expected to be a major highlite of the trip as it is one of the castles you see in the tv travel shows, and has a lot of interesting history concerning its ownership by three women and its usage during WW2. There is no disappointment here. The chateau is huge, turreted, has a keep or tower, is surrounded by a moat, spans the river, and has formal gardens on each side (see Trip Index cover pic). A huge fire was raging in one of the main floor fireplaces and with the temperature in the low forties, it was truly welcomed. We spend a couple of hours touring the rooms and checking out the furnishings as well as walking the gardens and setting records for the number of photographs at a single location. The cost comes out to about $8 a head and that is fairly standard for any of the chateaux in the valley that we visited. Its worth $8 just to stand outside and admire the structure. The only downside here is the contest between the different school groups trying to see who can be the most noisy and obnoxious. I feel like the Spanish group is clearly the winner today. Something easy to miss is an area of old buildings off to the side behind what is now the cafeteria and the pay toilettes( believe me, the 2ff cost of the toilette is a bargain). There is a barn, a wine press, stable area and several interesting stuctures to walk around without the crowds that are in the chateau.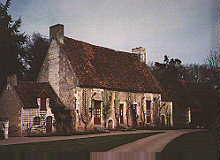 Heading back toward Cormery we detour to Amboise to check out the chateau and Le Clos Luce,where Leonardo da Vinci lived and died, but arrive too late as everything is shutting down at 6 PM. Amboise is a nice old town overlooked by the huge fortress of the Royal Chateau, between the city and the Loire. There is a brasserie open and we get sandwiches and beer for dinner. Never order a 'saucisson sec' without plenty of beer. This turns out to be a totally dry salami sandwich on french bread. Carol orders pizza. Not exactly gourmet time.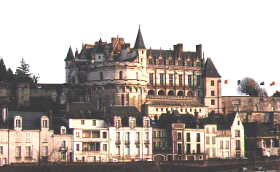 We decide we definitely need to come back to Amboise when the city is not closed up tight as a fist and do some exploring. Stopping at a local grocery, we load up on picnic stuff and drinks for the next day and decide to locate the Pagode de Chanteloup. This Japasnese style tower is the remains of a larger structure and supposedly patterned after Chinese pagodas. Easily found, it is nonetheless closed. We can see it from the parking lot and decide its is not interesting enough to warrant the admission fee anyway and strike it off our list.


A long and interesting day ends back at our B&B with the unique experience of trying to sleep on French mattresses which are stuffed with wool. I can not describe it adequately, but firm it is not. We get accustomed to it just about the time we leave for a new destination three days later. No matter where you get on the mattress, you feel you will at some time slide off on to the floor because the mattress seems to have no shape or form. Anyway, if you want everything the way it is at home, stay at home!




Day Two in the Loire




Our second day in the Loire begins with a simple but tasty croissant breakfast at the B&B shared with a couple from Frisco who came in overnite. We swap tourist info from previous excursions and head out in our different directions.


Along with Chenonceau, Chambord is a main priority. It is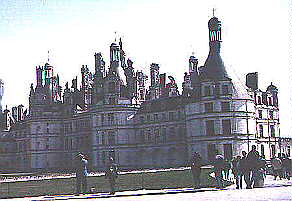 about a 50 mile trip one way if we don't get lost, but of course we do and it becomes a 70 mile trip. It is still very much worth it. All the written descriptions and video footage on tv can not do it justice. It is huge, crowded, cold as hell even with fireplaces ablaze, and absolutely wondrous in its architectural splendor. I am amazed someone could envision this in his mind and put it on paper, much less build it. The furnishings are interesting, but the real show is the spires, turrets and the unique staircase and the views on the roof and the gargoyle rain spouts and the etc., etc., etc. The most striking point
to me is the symmetry. There are many different shaped turrets and spires, and each one is mirrored by its twin on the other side of the chateau. After self touring this wonder we visit les Toilettes du Chambord on the way to the parking lot. First time I ever saw toilets that had a proper name posted on a sign. Another well spent 2ff.


Heading back southwest toward home base we detour to visit the Chateau Beauregard and what a contrast to Chambord and Chenonceau. Architecturally from a different age and looking more like a Paris museum, this place is totally deserted. There are two ladies taking tickets, the two of us, two kids playing in the courtyard and nobody else in sight. We are the only people touring this chateau and it is a welcomed change and an interesting tour as well. The ladies tell us in a brave attempt at English not to step on the 15th century delft floor tiles upstairs and send us off on our own self guided tour. As soon as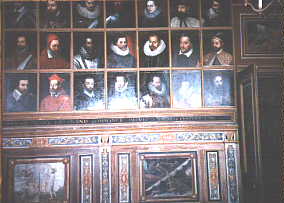 we reach the great hall, Carol, recently arrived here from Planet 9, walks right across the tiles. God! The room is plastered with portraits of important people separated chronologically by the reigns of different kings and the ceiling and woodwork is painted and decorated. This room is totally unique. A lot of the people pictured look an awful lot like the guy next to or under him. In fact, it looks like the same face with different hats and shirts in some areas. We are not quite sure if this is due to inbreeding or the fact that the artist might have gotten stuck on a particular face he liked a lot, but this is a neat place. The furniture is particularly ornate and well preserved here and the whole atmosphere of the estate is much removed from the fortress or castle style of Chambord and Chenonceau. There is a well equipped kitchen of that era that is worth a looksee as well and a 10th century chapel ruin on the grounds. Not on our original schedule, and visited on a whim, this turned out to be a real gem.


Today we return to Amboise in time to visit the chateau. It is quite large, especially the tower which has an interior rampway that is decorated with a grand assortment of gargoyles. This is the exit route
after the castle tour. There's a great view over the river from the ramparts on one side and an equally good view of the old town and the main city street from the other side. There is a chapel on the courtyard level that possibly houses the remains of da Vince. They are not sure. The ramparts are decorated with flags and its quite nice in and out. Around the corner is a medievel clock tower and gate and several touristy shops along the cobblestone streets.


Several blocks up from the chateau is the Clos Luce' where da Vinci spent his final days after visiting Amboise at the request of one of the kings. It is a unique building and houses a museum of artifacts and furnishings, including some scale models of some of Leonardo's inventions. Oddly enough credit for the replicas is given to IBM. It is another self tour just like the chateau and worth a visit. We spend about two hours in each and enjoy both.


Walking back toward the chateau we pass an area of troglodyte houses built into the same rock wall that forms the foundation for one end of the fortress. It really is a sight with chimneys rising straight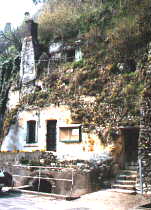 out of the ground and doors and windows built directly into the hillside. Further on, we encounter a cave dwelling under renovation. The holes in the tufaux rock having long ago been hollowed out to provide the stones to build the fortress, the work crews are using concrete blocks to frame in a door and windows across the cave openings. Inside, the blocks are used to build walls and create room dividers. The floors will be concreted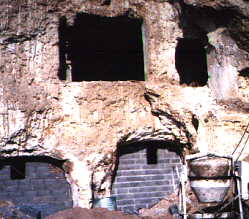 for smoothness, but the ceilings and most walls will remain the bare stone from the original cave. Some of these dwellings have expanded out with porches and patios and a few have even built new room additions out from the original caves extending toward the street and supported by columns. Truly unusual. They look easy enough to wire for electricity, but I'm not sure how they plumb these things.


Dead tired from a long day of travel and pavement pounding, we skip dinner, eat a few leftover picnic supplies and hit the sack back in Cormery. We've done the chateau circuit for two days hot and heavy and plan to break it up a little tomorrow by walking a medievel village and shopping around rather than opting for another castle. But, then, its hard to go anywhere around here without bumping into another great chateau.




The Medievel City of Loches




This morning at the B&B we meet a another couple just in from Paris last night. Like yesterday's couple, they too are from the Frisco area. (This gets a little weird a few days later.)


If I ever make this trip again, the one city I will be sure to return to is Loches, on the river Indre. The entire city is a kodak moment waiting to be snapped up. History is everywhere here, from Henry II and Charles VII to King Richard to Jeanne d'Arc and Agnes Sorel, who is buried in the royal apartments.


Loches is small enough to cover completely in one day on foot and yet full of interesting sights and shops. We kill the whole day here and never get bored and do not even visit the dungeon and the keep.


Travelling the smaller back roads past farms and vineyards from Cormery and it takes around an hour. Far below the fortress, a carnival is being assembled for an easter weekend celebration. After trekking up the steep hill to the immense walls that surround the older parts of the city we find a parking lot right at the entrance. Oh well. Inside the walls are the older parts of town, the fortress keep, the Cathedral of St. Ours, and the royal apartments.


Dating from the 10th century, the cathedral is the only one we've seen with a double pyramid shaped vaulted ceiling. It's very different inside and out and has some nice stained glass as well. Our next stop across the courtyard is the royal apartments where we run into that constant problem, the 2 hour French lunch break. All closed up. Returning to the car, we drive around to the other side of the ramparts and park at le jardin publique. This is a very nice little park complete with a stream flowing into the Indre at one end and lots of benches near the gazebo for wasting away time. Here we have have a really good picnic lunch featuring local cheese and pate with a baguette and our trusty bottles of Evian. The view of the town from the park is great.


Following lunch, we still have time to kill and walk around thru one of several medievel portes or gates that remain here and find ourselves right in the middle of market day in Loches. There are scores of stalls set up in the main square of the lower town with vendors offering everything from flowers to blue jeans. We even find a guy flying the Confederate Flag at his stall. I have no idea why. Killing a couple of hours here is easy and we buy a few gifts for the kids and ourselves and mainly just enjoy the atmosphere of market day. I am constantly amazed by the different restrooms encountered in France, and here run into my first street pissoire. Sure enough, you just step behind a waste high two foot wide wall, place your feet on the footprints in the concrete and point at the hole in the pavement with God and everybody else watching. Although it's my usual rule never to pass up a toilet opportunity on vacation, I'm sorry. This I can not handle. What a prude!


With lunchtime over, we return to the royal apartments and explore it for an hour or so. There are some nice paintings and a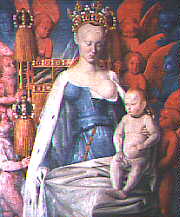 really old book under glass to study on and the stone coffin of Agnes Sorel. The entrance is guarded by carved stone dogs instead of gargoyles for a change and the apartments are not large enough to tire us out. Over the ramparts we get a good view of the roofline of Loches with myriad turrets and spires and the Tour de St. Antoine, which can be seen from almost anywhere, but not entered from anywhere as far we know. Heading back down the hill again, we stroll a few cobbled streets and buy a few more gifts at local shops in the pedestrian zone. The decision is made to skip the keep and dungeon as we have seen so many the last few days they are starting to get a little fuzzy, and we point 'little green' toward Cormery, but by a different route than we came, taking a leisurely drive back to the house. Driving alongside the Indre river is a pleasant trip and there are docks and boats all along it signalling recreational use, but we never see a house or even a shack and decide there must be some zoning ordinance prohibiting structures along the river. Good idea.


Back in Cormery we explore the old Abbey on foot since our lodging is actually a part of the ruins. There is a gate and several walls and arches and parts of structures, but it is hard to tell what was what 900 years ago. Our host later explains that to save the ruins, it was parcelled out in pieces, each containing some part of the original buildings and people (mostly lawyers, of course) bought parcels at auction. Now there are people living in and restoring parts of the original Abbey just as she has done with her B&B which contains a small courtyard and a 10th century arch from the Abbey.


On our host's recommendation we eat at a little restaurant named La Pecherie just around the corner on the Indre river. This is the fanciest white linen meal we have had on the trip and runs around 240ff. Service and food is great. We are treated well. The waiter's English is just as bad as my French, but he is dressed much better than I am. My jeans and sweater just don't compete with his tux. Following the meal, we drive off to take a few photos of some chateaux lit up after dark. Either we are too early in the season for lit up castles, or there is a concerted effort here to save electricity. Three villages, three castles, no lights! We drive for miles and never see anyone in town or on the road. This area really does roll up the sidewalks after dark.

Next stop: Azay le Rideau and the Western Loire



The Western Loire / The Photo Index

Email Address: jcf@ilinks.net